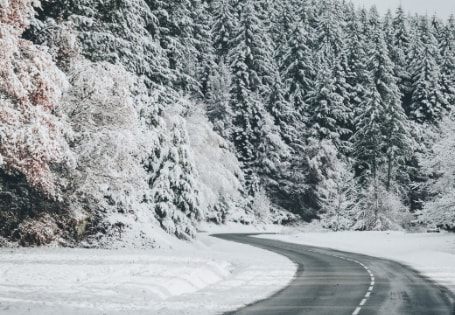 With cold weather, icy roads, and snow, winter can be a challenging time to get behind the wheel. Stay safe and get to your destination on time by following these winter travel tips from C&S Subaru in Waterloo, IA.
Prep your vehicle for winter travel.
Prep your vehicle, preferably at the start of the season, so it's all set to go when winter arrives. Get any required servicing done. Switch tires to snow versions, if you have them, and make sure they have plenty of tread and are inflated to the correct pressure. Inspect your tires at least once a month to ensure that they're in good condition. Replace worn wiper blades, fill the washer reservoir, and make sure your defrosters work.
Keep your gas tank at least half full.
Keeping your gas tank at least half full minimizes the risk that you'll run out of fuel in the middle of a snow storm. But more importantly, if you get stuck in the snow, only your climate control system can keep you warm, and it only works as long as you have gas in your car.
Bring cold-weather gear.
Put the following items in your vehicle: blankets, extra warm clothing like scarves and mittens, a flashlight, food, water, jumper cables, medicines, cold weather shoes, and money. You want to have resources to turn to in case your car breaks down or is trapped by a snowstorm. Abrasive material such as sand or kitty litter is helpful if you get stuck in the snow.
Prep your smartphone.
Bring your charge cable, so that you have a way to power up your phone from your car. You don't want to lose phone service just when you need it the most. As a further precaution, keep a battery that can charge your phone, in case your engine dies and you need to make a call. Before your trip, turn on location sharing for your phone through Google Maps. Then share your location with a friend or relative who is not riding with you. If you are incapacitated during an emergency, that friend or relative will be able to locate you on Google maps.
Don't start your car in an enclosed space.
If you have Remote Start, you may be tempted to run your vehicle in your garage so that that climate control system warms the cabin. Unfortunately, this process will fill your garage with carbon monoxide emissions, which can prove deadly. Start your vehicle only in open spaces or when the garage door is open to vent away noxious fumes.
Start early and go slowly.
When the road contains ice and snow, the last thing you want to do is rush because you're running late. Start early to give yourself plenty of time to reach your destination. Your tires will have less grip on the road, so you need to adjust your speed accordingly. Slow down and speed up slowly to give your wheels time to develop traction on slippery surfaces.
Avoid stops.
On icy or snow-covered streets, your wheels are likely to spin and slip whenever you stop or accelerate from a stop. So avoid stopping when you can. When you're approaching a red light, start slowing down way before you reach it. If you time it correctly, the light will turn green just as you reach it, and you can speed up again slowly without ever stopping.
Make inertia your friend.
Again, to avoid wheel spin when you go up and down hills, use the inertia of your car to help. Before you reach a hill, speed up a little on the flat road before it. Your inertia can then carry you up the slope. Do not stop or you may slide down. Instead, as you reach the top, lower your speed, so you can continue downhill slowly.
Look for driver-assist features that help with winter travel.
If you're in the market for a new vehicle, look for features that help with winter driving. For example, All-Wheel Drive, which is standard on almost every Subaru, improves traction on icy or snowy surfaces. Vehicle Dynamics Control, which includes such technologies as Electronic Stability Control, the Traction Control System, and the Anti-lock Braking System, helps prevent skidding and wheel slip. It is available in the Forester, WRX, Crosstrek, Outback, and Ascent, among other Subaru models.