The 2023 Subaru Love Promise Customer and Community Commitment Award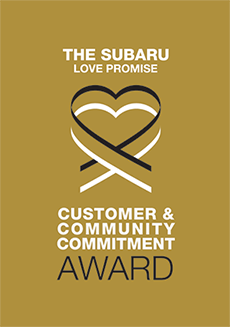 We've been nationally recognized for our dedication to our customers, our community, and the Subaru Love Promise.
We're honored to receive the 2023 Subaru Love Promise Customer and Community Commitment Award. This award nationally recognizes elite Subaru retailers who provide an exceptional customer experience at every interaction with Subaru. These retailers have also demonstrated an outstanding commitment to supporting passions and causes in their local communities in important areas such as the environment, community, health, education, and pets.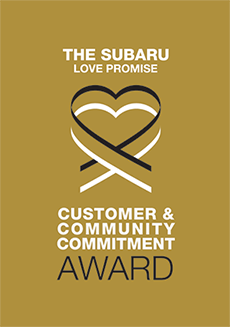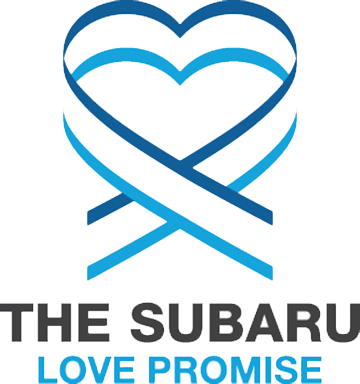 What is the Subaru Love Promise?
Subaru and our retailers believe in making the world a better place and the Subaru Love Promise is our vision of respecting all people. This is our commitment to show love and respect to our customers and to work to make a positive impact in the world.
How is C & S Subaru dedicated locally to the Love Promise?
Our Love Promise can be seen in various partnerships with local charities and non-profits. We're grateful for the opportunity, not only to be a part of our community, but to serve it as well.
Love Promise Stories from C & S Subaru
Subaru and C & S Subaru believe in making a positive impact on the communities in which we live and work. We uphold that belief through our Love Promise Community Commitment. Every month, we select inspiring stories from customers and partners from around our area who strive to support our collective commitment and feature them here
AdoptAClassroom.org at Lowell - Carrie H
A huge shout out and our heartfelt thanks to C & S Subaru for supporting our school through AdoptAClassroom.org. Each grade level team was able to purchase items they would not otherwise be able to get to help our students succeed! Thank you C & S Subaru for your continued support of Lowell Elementary! #Subaruloveslearning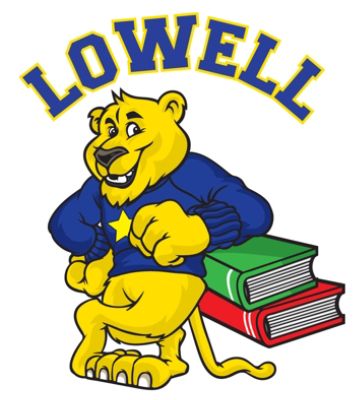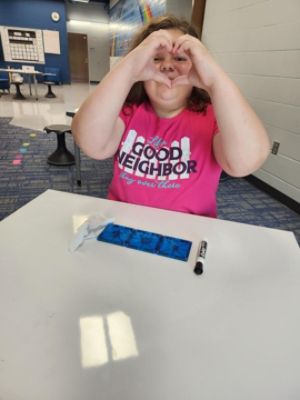 ---
C & S Subaru's support is truly LIFE SAVING to CBHS - Jessica C
Wow, we almost couldn't believe it when we saw the check for $17,268. For a local animal shelter, those funds go on to do so much. Cedar Bend Humane Society assists over 1,000 sick and injured homeless animals every year and we never know who will be next to walk through our doors or what scope of care they will need. For so many thousands of homeless pets each year, CBHS is their only hope. That is made possible in large part by the generous support of C & S Subaru. From all of the staff and shelter pets at Cedar Bend Humane Society, thank you.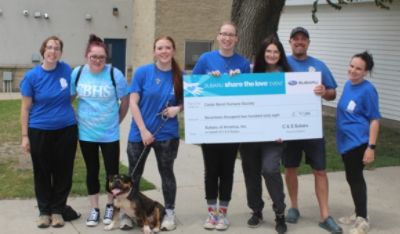 ---
Thank you for helping us Make a Dog's Day at CBHS! - Jessica C
We couldn't think of a sweeter way to celebrate Subaru's 3rd annual Make A Dog's Day than to give shelter pets an extra special treat. Thank you to C & S Subaru for your continued support and keeping the Subaru Loves Pets promise. Your donation helped Cedar Bend Humane Society afford all the care necessary for over 30 homeless pets to become "adoption ready" and ultimately helped them experience the love, joy, and comfort of finding their forever homes. C & S Subaru's partnership is truly life-saving.
---
Birdie's Second Chance - Jessica C
Our sweet girl Birdie arrived at Cedar Bend Humane Society as a stray wearing a collar painfully too small. Her neck was rubbed raw with clear signs of infection. The lack of fur and severe skin infection covering most of her body was diagnosed as demodectic mange that had gone untreated for far too long. Her poor feet were raw and swollen. Birdie's condition was heartbreaking to see. Thanks to C & S Subaru's partnership, Cedar Bend Humane Society was able to afford Birdie's care, along with hundreds more shelter pets needing medical attention and daily medication. Homeless pets do not have families to provide them with life-saving care and instead rely on the generosity of the community to help us, help them. Once Birdie was healthy enough to continue her healing in a home, she was adopted almost immediately after becoming available. Birdie's second chance at finding a loving home is thanks to C & S Subaru. Thank you.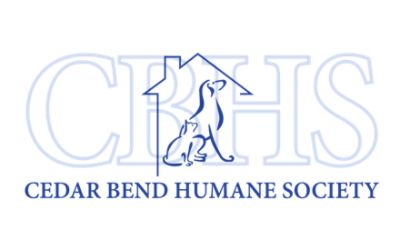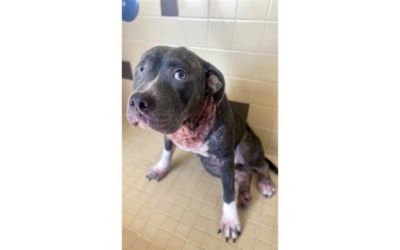 ---
Life-saving Funds for Pets in Need! - Jessica C
As a local non-profit animal shelter, Cedar Bend Humane Society relies on the support of our community to give hope to the thousands of homeless pet that comes to us in need each year. C & S Subaru's Share the Love donations will go on to assist more sick, injured, and abandoned animals like Ramona... On a chilly September day, Ramona was found wandering the streets and was brought to Cedar Bend Humane Society. She was covered in hives and skin tags and has severe, painful infections in both ears that resulted in hearing loss. We will never know why Ramona's treatment had been neglected for so long, but we were determined to do everything we could to help her. Ramona required multiple surgeries, cultures, and ongoing antibiotic treatment for her painfully infected ears, and a cyst was removed from her head. Ramona is no longer in pain, but her ears will require ongoing daily care. Ramona was in the care of Cedar Bend Humane Society for over 5 months and received daily medical attention, medications, parasite preventative, spay surgery, vaccinations, microchip, food, and shelter. Ramona was adopted and now has a family that will give her a life full of love! Ramona is one animal out of the hundreds that C & S Subaru's generosity and support will go on to save. Thank you helping Cedar Bend Humane Society help the pets that need it most.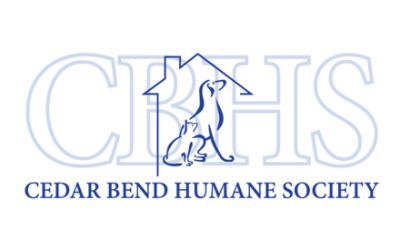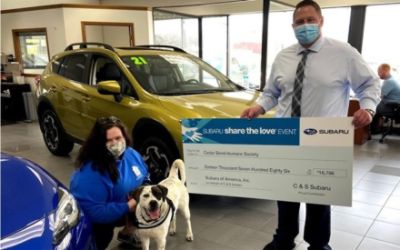 ---
Helping Homeless Pets Become Homeward Bound! - Jessica C
Meet Dyna! Dyna was one of Cedar Bend Humane Society's longest dog residents that waited over four months in the shelter before finding a loving home during Subaru's National Make A Dog's Day event. Before Dyna could be adopted, she received all of the care necessary to make her "adoption ready": a medical exam, behavioral assessment, vaccinations, flea and tick prevention, a pre-registered microchip, heartworm test, any medical care or grooming needed, and her spay surgery. The donation received from Subaru's National Make A Dog's Day will go to Cedar Bend Humane Society's Homeward Bound program which will help dozens of dogs, like Dyna, find loving homes of their own. Thank you for your partnership and friendship. The happy and heartwarming adoption photos we are so thankful to post every week are because of C & S Subaru's generous support.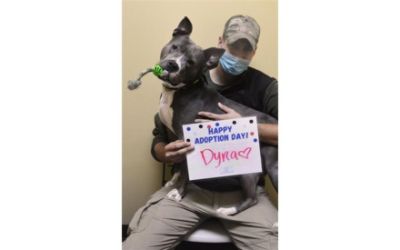 ---
Giving Shelter Pets Care When It Was Needed Most - Jessica C
Cedar Bend Humane Society closed it's doors to the public for the first time in over 50 years over concerns of the COVID-19 pandemic. Nearly all of our income-generating services the shelter relies on to provide care to each life that comes to us were stopped. On top of that, donations dwindled down to nearly nothing because the community was facing this hardship together. The world seemed to have stopped, but the need to care for our community's homeless, injured and neglected animals did not. Cedar Bend Humane Society continued to receive animals that were looking to us for help. Dogs and cats needing medical treatment, disease-preventing vaccinations, and daily care, litters of kittens needing around the clock nursing, animals needing surgery...it all remained a part of our every day. C&S Subaru and Subaru of America, Inc's donation from the 2019 Subaru Share the Love Event brought stability to the shelter where there was previously doubt and uncertainty. It is not an understatement to say that the donation was life-saving. Thank you for your efforts, generosity, and to everyone who chose CBHS to receive the funds from their vehicle purchase. Cedar Bend Humane Society will remain forever grateful for your contribution.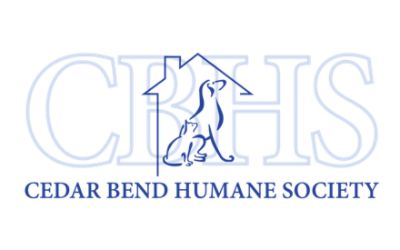 ---
C & S Subaru Donates Books to Lowell Elementary - Carrie H
Thank you so much to Subaru and the American Association for the Advancement of Science (AAAS) for partnering with Lowell Elementary to get great books into the hands of students and teachers. Our students love to get new books and they especially love to learn new things through reading nonfiction texts. The animal books are always a hit with our students! Thank you for your donation to our school. It truly takes a whole community to make sure our students are getting everything they need to be the best learners they can be. With your donation of nonfiction books, we are ensuring we have great texts in every classroom for our students to enjoy reading. Thank you again and we look forward to a continued partnership with C & S Subaru and the American Association for the Advancement of Science.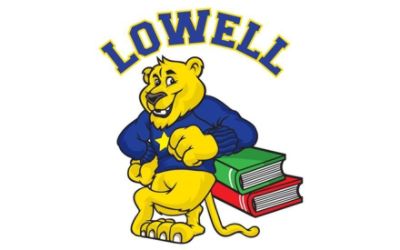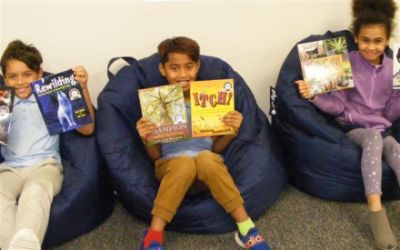 ---
Thank You! - Carrie H
Thank you to C and S Subaru for the donation of books to Lowell Elementary! Our students love to get new books and these are great! They are great non-fiction books filled with beautiful pictures. They will complement our science curriculum well! Thank you again for thinking of us and for going above and beyond in our community. - Carrie Heinzerling, Principal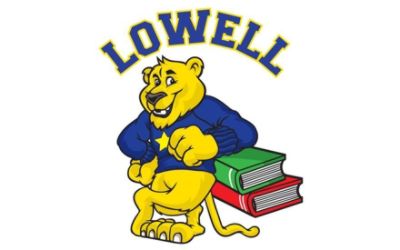 ---
Quality Counts - Bryan H
Year after year, the CNS Car Company team is a reliable and trusted partner in fighting hunger in northeast Iowa. Every year, they partner with Subaru to make a donation to us. This year over 64,000 meals were raised from their support. We drive all throughout northeast Iowa delivering millions of meals a year to people and organizations in need, and we couldn't do that if it weren't for companies like C&S Subaru who understand and appreciate quality service as a worthwhile investment. Thank you C&S Auto!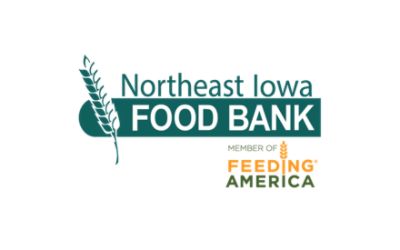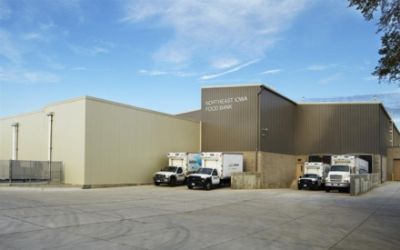 ---